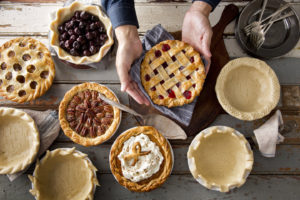 Do you smell that in the air? That sweet scent that is extra special during Thanksgiving? That's right. I'm talking about pie! While many people are all about pumpkin spice everything, I can't help but go for the classic apple pie after filling up on Thanksgiving turkey, potatoes, and stuffing. So which is your go to dessert? Fill out our fun survey to share the sweetness!
Last Week
On Wednesday this last week, the kids took over the meeting room. Not only did Stephanie hold the usual Mugs & Hugs for the little ones in the morning, but the big kids got to romp around for Bulldog Break Time and ReCharge in the afternoon. Movies were watched (as the projector is now up and running once more), games were played, and a good time de-stressing was had.
This Week
This week is going to be quiet with the upcoming holiday weekend, but Brown Bag Lunch will be held on Tuesday, November 20th at 12:30pm in the meeting room for any adults who wish to bring in their lunch and spend some time with us in the library.
Heads Up!
The Vicksburg District Library will be closed this Thursday in observance of the Thanksgiving holiday. Please make sure you come in and get any materials you would want for the day by Wednesday evening. We will be open once again for our regular hours on Friday morning. In addition, the schedule of holiday closings is now posted on the homepage of the library website. If you have any questions or concerns in regards to this, please feel free to contact us at 269-649-1648.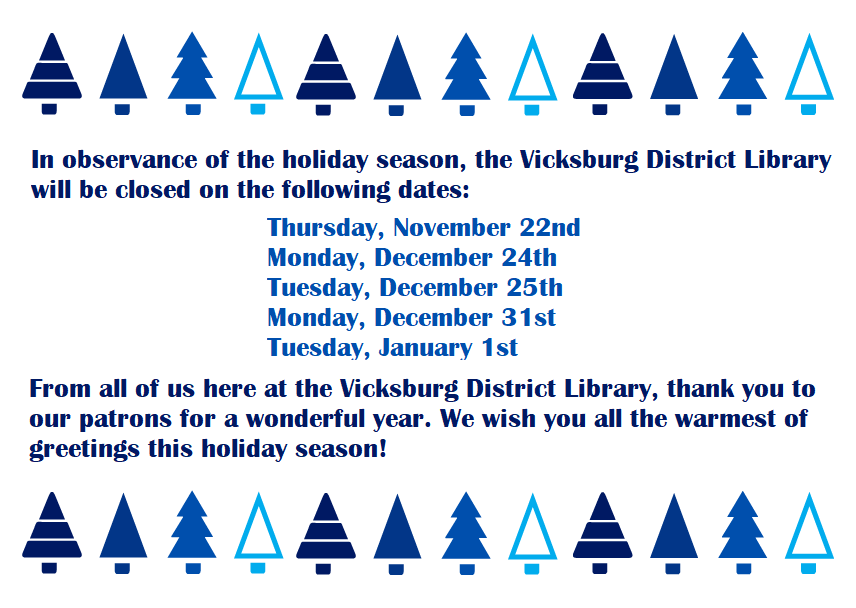 Dates to Remember
Monday the 19th @ 10:30am: Family Story Time
Monday the 19th @ 5:30pm: NaNoWriMo Write In
Tuesday the 20th @ 9:30am: Bridge Club
Tuesday the 20th @ 12:30pm: Brown Bag Lunch
Tuesday the 20th @7:00pm: Tai Chi Practice
Thursday the 22nd: LIBRARY CLOSED. HAPPY THANKSGIVING!
Monday the 26th @ 10:30am: Family Story Time
From all of us here at the Vicksburg District Library, we hope you have a lovely weekend and Thanksgiving holiday!