What's Happening?

This week at the library:

Monday, February 8

10:30-11:00 : Babies & Toddlers Story Time

11:15-12:00 : Preschool Story Time

Tuesday, February 9

9:00 – 12:00 : Bridge

1:00-3:00 : "Our Collective History" Osher Lifelong Learning Course with David and Kristina Aubrey

6:30 pm : Girl Scout Troop 80856

Wednesday, February 10

2:45 – 3:45 : Teen Recess

4:00-5:00 : ReCharge for Grades 3-5

Thursday, February 11

2:30-4:30 pm : WMU Interns

Friday, February 12

6:30-8:00 : Art Show & Reception : Vicksburg High School Photographers

Saturday, February 13

10:30 – 11:30 : Cuppa Joe

1:00-3:00 : Cabin Fever Afternoon

Sunday, February 14

1:30 – 3:30 : Teen Dungeons & Dragons Movie
  Free Income Tax Preparation and Electronic Filing    
Services provided by IRS-certified community volunteers (VITA) for individuals and families with household income of up to $54,000 in 2015. Direct deposit is available at all locations.
Dial 2-1-1 to schedule an appointment, or go online to www.goodwillswmi.org and click on the tax link for more information.
VITA will be at the Vicksburg Library on March 22 and April 5. Dial 2-1-1 for an appointment. Library staff cannot schedule appointments, but will be happy to help you reach 2-1-1.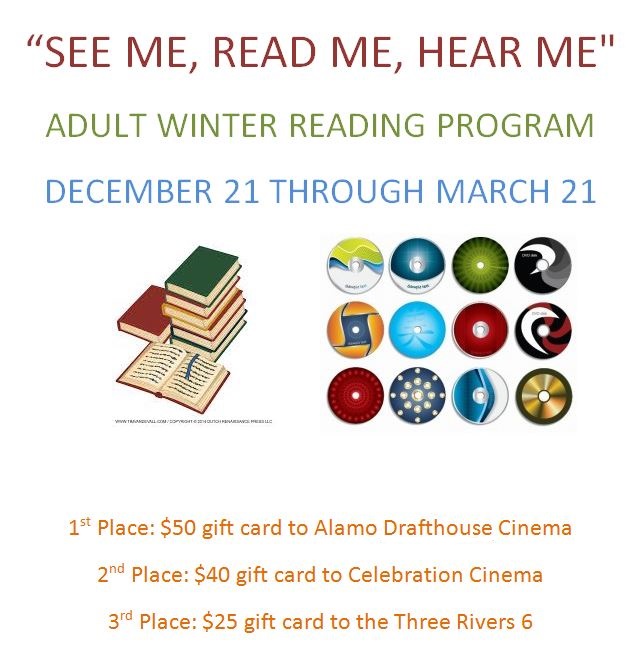 Adult Book Club

9:00 – 10:00 am

Read a book selected by our Youth Services Librarian or a personal favorite from childhood (or both!). If you love it and want to share it, consider donating a copy to the library. 

eBook and Digital Audiobook Information

Click the graphic below to visit our eBook & Digital Audiobook catalog!