It's a quiet, rainy morning here at the library. I'm gearing up for a busy day since the calendar just turned over from September to October. That generally means new displays, paging through material requests, and new orders for me. The fall does not bring a slowdown to the season here at all!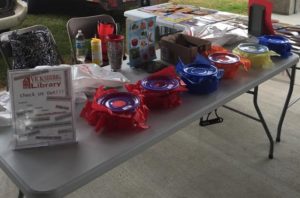 Last week was an exciting one here at the Vicksburg District Library. We held our first Sign Language Class on Thursday and it was such a success, we've booked another one! Mark your calendar for Thursday, October 11th @ 6:00pm for our next Sign Language Class to be held in the Heritage Room. Linda and Stephanie also attended the Harvest Festival on Sunday morning at the Historical Pavilion. They gave out free books to kids, treats, and played "What's That Scent?" The day turned out to be sunnier than expected and there was a fantastic turnout. Thank you to all who stopped by our table and checked out the library's goods!
A couple of events to keep in mind for this week! First for the kiddos, Mugs & Hugs will be this Wednesday, October 3rd at 10:30am in the Meeting Room. Come play with your kiddos while you sip coffee or tea with other parents (parental supervision is required for each child in attendance). And for the adults, on Thursday, October 4th at 9:00am is Adult Book Club in front of the fireplace and mantel. We will be discussing the book The Know-It-All by AJ Jacobs while sipping coffee, tea, and sampling homemade apple cinnamon muffins. New patrons are always welcome to join the discussion, whether or not they have read/finished the book. Be sure to contact me for further details.
In website news, I have been hard at work with doing some resource research. Over the last couple of weeks, I have updated the Homework Help pages for both the Kids and for the Tweens & Teens. If you have any comments or additional resources added to these pages, please do not hesitate to contact me as I am always looking for suggestions to help out our students. Over the next couple of weeks, I'm focusing on helpful resources for our adults. Again, while I have my own list going, please let me know what you would like to see as these resources are being listed to help you, our patrons.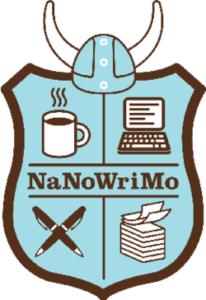 Coming up in November, the library will be participating in National Novel Writing Month, a fun and crazy write-a-thon where participants have 30 days to write a 50,000 word novel. Further details about the event can be found on the NaNoWriMo website and I will be posting about Write-In events at the library on the website's Kalamazoo page very soon. Be sure to join us for word sprints, comradery, and free candy! Special prizes await those who complete their novel with the Vicksburg District Library, so stay tuned for further details!
Have a great week everyone!
-Adrianne
Upcoming Events:
Tuesday, October 2nd @ 9:30am: Bridge Club
Wednesday, October 3rd @ 10:30am: Mugs & Hugs
Thursday, October 4th @ 9:00am: Adult Book Club
Thursday, October 4th @ 10:45am: Tai chi with Ed