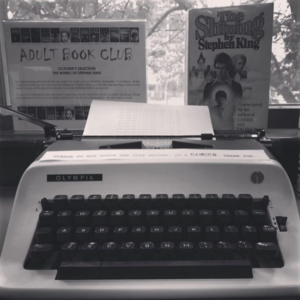 The Halloween atmosphere is settling into Vicksburg. More and more porches are starting to be decorated with pumpkins, black cats, and ghosts. The leaves are changing color and starting to fall. Fog is rolling in with the changing temperatures. Nothing like some spooky fun! Last week at Adult Book Club, we discussed The Know-It-All by AJ Jacobs over apple cinnamon muffins. The reading selection for the next meeting? The works of Stephen King! Creepy! However, since not everyone is a fan of horror, participants are more than welcome to read one of King's other works as well. So join us on November 1st at 9:00am as we discuss some chilling tales over a tasty treat for the Halloween holiday!
There is a lot coming up here over this next week, so we hope you are ready to go!
Wednesday the 10th the library is all about the kids! Stephanie will be heading three programs for our younger patrons for some fun and relaxation this mid-week. From 10:30am to 11:30am, it's Mugs & Hugs for babies and toddlers. Please note that a parent must be present with the child for this program, but coffee and tea will be provided while the kiddos play. Right after school from 2:45pm to 3:45pm, the Vicksburg middle and high schoolers (grades 6 through 12) are welcome to come chill and play games for Bulldog Breaktime. Snacks and games will be provided, but the parents are told to beat it as it's all about the kids!  And from 4:00pm to 5:00pm, the 4th and 5th graders get to takeover for ReCharge! Parents need not apply as we have games and snacks covered for this event as well.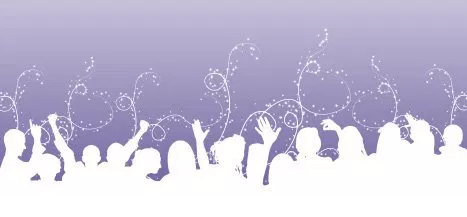 On Thursday the 11th, we will be holding our second Sign Language Class in the Heritage Room at 6:00pm. Have no fear if you couldn't make it to the first class. We will be going over all the basics so you can learn a new form of communication with our community.
Keep these upcoming events on your radar as well as they will prove to be a great time later this month…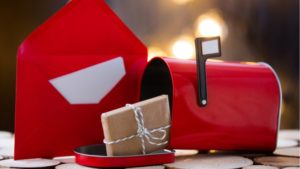 On Saturday, October 20th at 1:00pm, we will be holding a Christmas Card Crafting Class, hosted by Sue and Linda. The cost of the class is $2.00, which will let you make 5 cards. There will be a wide selection of cards to choose from and additional cards can be purchased for 50¢ each. Please kindly register in advance so an adequate amount of supplies can be provided.
Friday, October 26th at 7:00pm, the Vicksburg District Library will be hosting the Revelry Theatre Company for Murder by the Slice, a murder mystery fundraiser show! Tickets go for $10.00 each and will include show entrance, a slice of homemade pie, and a cup of coffee. Please kindly register before the day of. Tickets can be purchased at the library or directly from the Revelry Theatre Company at www.revelrytheatre.org.
-Adrianne
Dates to keep in mind:
Tuesday, October 9th @ 12:30pm: Brown Bag Lunch
Wednesday, October 10th @ 10:30am: Mugs & Hugs
Wednesday, October 10th @ 2:45pm: Bulldog Breaktime
Wednesday, October 10th @ 4:00pm: ReCHARGE!
Thursday, October 11th @ 6:00pm: Sign Language Class
Friday, October 12th @ 1:00pm: Ladies Library Auxiliary
Saturday, October 20th @ 1:00pm: Christmas Card Crafting Class
Friday, October 26th @ 7:00pm: Murder by the Slice Fundraiser