Happy November one and all! Wasn't Halloween wonderful this year? The warmer air was perfect for trick-or-treating in the evening. It wasn't nearly as bitter as it has been in years past. But now the temps are dropping into the 40s and it won't be long before that dreaded four letter S word shows up…SNOW!
Last Week
Halloween ruled supreme last week! During Mugs & Hugs, Stephanie led the little ones through the main floor for a fun costume parade. Then in the evening, Linda passed out candy and other treats on the front lawn for all of our trick-or-treaters in her spooky, fun tent. There were sugary sweet grins all around the library!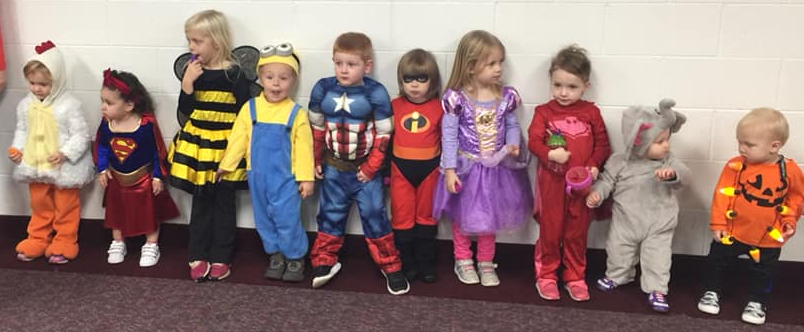 National Novel Writing Month (NaNoWriMo) kicked off on Thursday with Adrianne with the Goodie Bag Giveaway. Then on Friday, the first Write In of the month was held. The group of participants wrote their novels to word sprints and leftover Halloween candy, enjoying some tunes and comradery as they sprinted towards their word goals. Any participants who are keeping up with their writing work should be reaching 11,669 words by the end of Wednesday.
This Week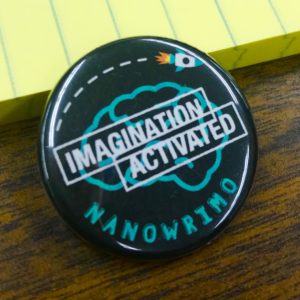 Two more Write Ins for NaNoWriMo are being held this week. Adrianne encourages all writers in the area to come to the library and join in! There are leftover goodie bags up for grabs and attendees are entitled to one when they come in. Write Ins will be held Monday the 5th from 5:30pm to 7:30pm and Friday the 9th from 2:30pm to 4:30pm. Please note that Friday's Write In will be held in the Heritage Room on the main floor of the library.
The Ladies Library Auxiliary will be holding their monthly meeting on Friday the 9th from 1:00pm to 3:00pm in the Meeting Room on the lower level.
Check It Out!
New displays are up in the library! Near the front, there are books on writing and manuals galore to encourage our writers for National Novel Writing Month. In the back by the fireplace, the display is all about SPACE! The Adult Book Club will be reading all books having to do with space, space exploration, science fiction, et cetera for the month of November. Adult Book Club will be meeting on the 6th of December at 9:00am to discuss what they chose to read.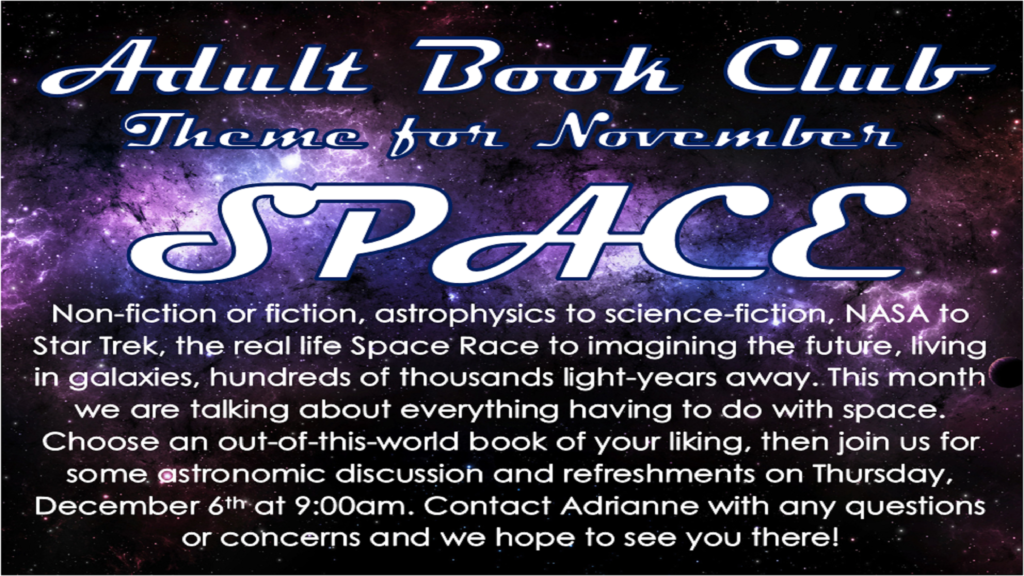 Dates to Remember
November 5th @ 10:30am: Family Story Time
November 5th @ 5:30pm: NaNoWriMo Write In
November 6th @ 9:30am: Bridge Club
November 6th @ 12:30pm: Brown Bag Lunch
November 7th @ 10:30am: Mugs & Hugs
November 8th @ 10:45am: Tai Chi with Ed Kehoe ($5.00)
November 8th @ 6:30pm: Sign Language Class
November 9th @ 1:00pm: Ladies Library Auxiliary
November 9th @ 2:30pm: NaNoWriMo Write In
November 10th @ 10:00am: SW Michigan Button Club