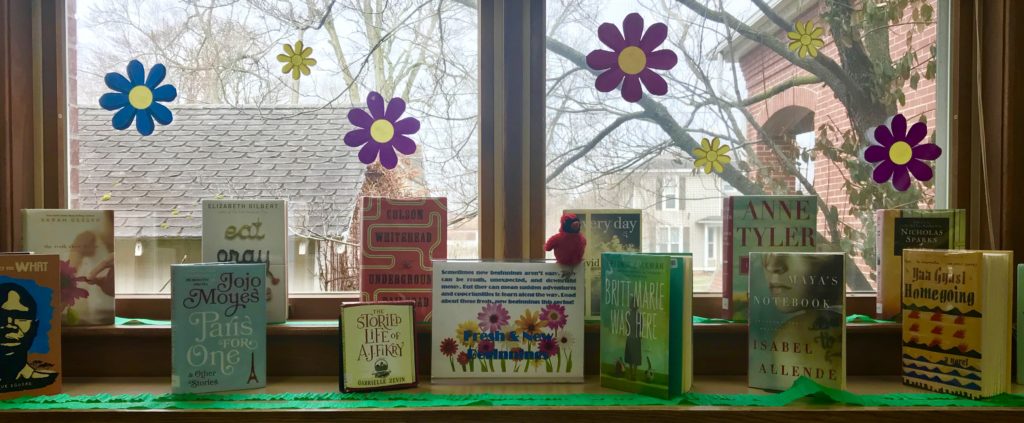 Did you have a nice spring break everyone? More snowbirds are returning to Michigan from the warmer south. People are flocking back to work and school after a nice reprieve from the daily grind. And this past Saturday and Sunday were warm, partly cloudy, and gave good omens of the lovely weather to come! Who is ready for grilling, baseball, lawn games, and bonfires? I know am!
Last Couple Weeks
It has been business as usual around the Vicksburg District Library while families were off for spring break the last week and a half…
On March 27th, the Writer's Roundtable met to share poems they wrote using lines from emails and letters. The next time they meet will be on Wednesday, April 24th @ 1:00pm. The prompt for the meeting is to write about a piece of jewelry that is important to you.
On April 4th, the Book Club for Adults met and discussed their latest selection, The Beekeeper's Apprentice by Laurie R. King. The discussion quickly turned to everything Sherlock Holmes and lively debates broke out about the Holmes cannon for both new and former fans! Our next meeting is Thursday, May 2nd @ 9:00am. We will be discussing biographies. See the website or call the Circulation Desk for more details.
This Week
Youth Librarian Stephanie is back on Wednesday the 10th with Bulldog Breaktime for our teens @ 2:45pm. Teens 6th through 12th grade are welcome to come play Nintendo Wii, board games, and Legos while enjoying a snack after school.
On Thursday the 11th, the Sign Language Group is meeting in the Heritage Room at 6:30pm. All levels are welcome, even if you are a beginner. Come learn a new skill with other learners!
Check It Out
Some beginnings are expected and a breath of fresh air. Others can be tragic and out of the blue. Either way, they lead to new adventures. Come check out our Fresh, New Beginnings display and choose a book that speaks to you and gets your spirit renewed!
Dates to Remember
Tuesday the 9th @ 9:30am: Bridge Club
Tuesday the 9th @ 7:00pm: Tai Chi Practice
Wednesday the 10th @ 10:30am: Mugs & Hugs
Wednesday the 10th @ 2:45pm: Bulldog Breaktime
Wednesday the 10th @ 7:00pm: Vicksburg Planning Commission
Thursday the 11th @ 10:45am: Tai Chi with Ed Kehoe ($5.00)
Thursday the 11th @ 6:30pm: Sign Language Group
Friday the 12th @ 1:00pm: Movie Afternoon for Adults
Saturday the 13th @ 10:00am: SW Michigan Button Box Club
Monday the 15th @ 10:30am: Family Story Time
Tuesday the 16th @ 12:30pm: Brown Bag Lunch
Thursday the 18th @ 12:30pm: Homeschool Book Club
Thursday the 18th @ 6:00pm: Library Board Meeting
Friday the 19th @ 9:30am: Ladies Library Auxiliary
Saturday the 20th @ 11:00am: Viking Camp Reenactment by the Norsemen of Michigan