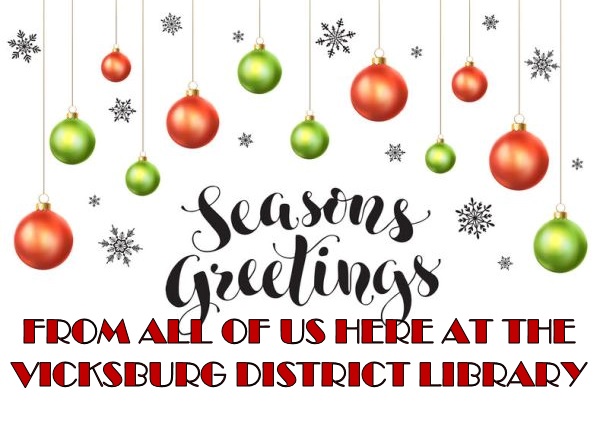 Merry Christmas everyone! It's hard to believe, but the holiday is mere days away. If you are hoping to get items checked out for then, we highly recommend placing your orders now so we can set up appointments as soon as items are available for you. You can do so by accessing our catalog. Please note that we will contact you once items are available and ready for pick up to set your appointment. If you have any questions about this process, please email us at info@vicksburglibrary.org or give us a call at (269) 649-1648.
HOLIDAY CLOSURES
As a kind reminder, we will be closed the following days in observance of the holiday season:
Thursday, December 24th: Christmas Eve
Friday, December 25th: Christmas Day
Thursday, December 31st: New Year's Eve
Friday, January 1st: New Year's Day
RECOMMENDATIONS
Miss being able to walk through the book shelves at the library to discover new books? Wondering what is currently trending in fiction and non-fiction? We've got you covered! Here are a few suggestions…
First, the New York Times Bestseller List is a great place to find out what people are buying in adult fiction, adult non-fiction, and children's books. Be sure to check out the current complete listing as it changes week to week.
Second, Goodreads is a great resource to see what everyone is currently reading and talking about too. See ratings, reviews, and even information from the authors of your favorite books. Don't forget to check out the Most Read This Week in Adult Fiction and Most Read This Week in Nonfiction lists. You can also search for books based on genres like history, science, and humor! This website is also a great resource if you're seeking the next book in the series you are falling head over heels for.
Third, want us to pick out some books for you based on what you like? No problem! We have three Google forms you can fill out and we'll make selections based on your answers, right here at the library. Fill out the Children's, Young Adult, or Adult forms, and we'll call you to schedule a pickup time when your order is ready!
Lastly, don't forget to check out OverDrive, our app for accessing e-books, e-audiobooks, and video streaming. You don't even need to come in to the library to use it. You can access it from home with simply a Wifi connection and your Vicksburg District Library card number. The best part? No overdue fees! When your checkout period ends, your items are automatically turned in from your device. Selections from OverDrive are brought to you by the Southwest Michigan Library Cooperative.
TOP 25 RATED BOOKS OF 2020
We've been counting down the top 25 rated books of 2020 owned by the Vicksburg District Library on social media. Here are the top choices revealed so far:
20. Where the Lost Wander by Amy Harmon
23. The Mirror & the Light (Thomas Cromwell #3) by Hilary Mantel
Items from this list come from our adult fiction, adult nonfiction, and young adult collects. Suggestions and ratings come from sources such as Amazon, Goodreads, Google Books, Booklist, and the New York Times. Want to read one of the books listed? Access our catalog or call us to put it on hold for you today!
SEASONS GREETINGS
From all of us here at the Vicksburg District Library, we hope you have a safe, healthy, and happy holiday season! Merry Christmas, happy holidays, and a bright new year in 2021 to you all!