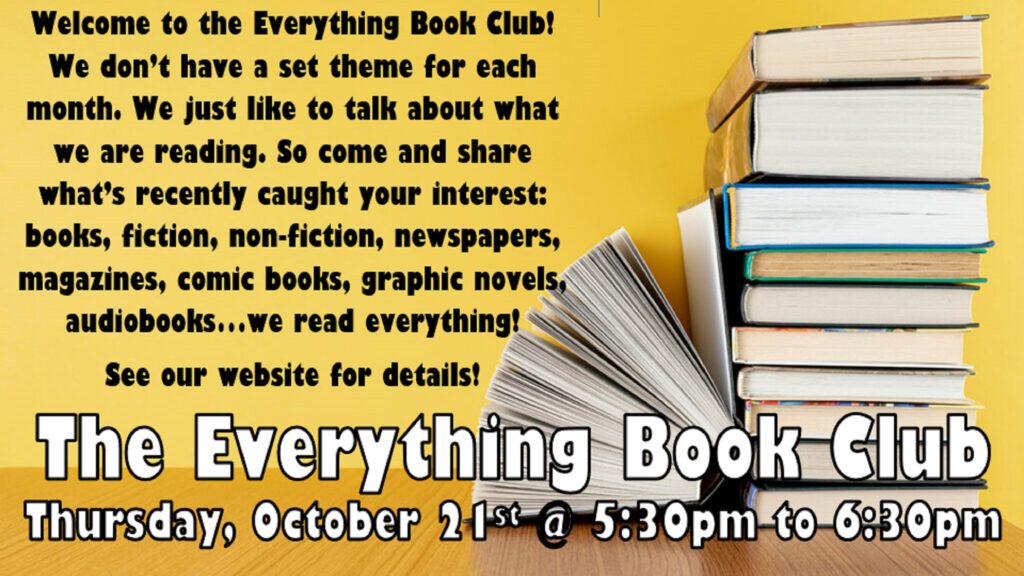 The days are still warm, but the nights are definitely getting cooler. It's the best time of year to keep the window wide open at night and burrow under blankets while the fresh autumn breeze comes in. Don't believe me? Try it this week. And before you turn in for the night, light a favorite candle, have a cup of warm tea, and relax with a good book. It'll be the best night's sleep you ever had!
Pickups From Party in the Park
Sadly, due to the rain, our Party in the Park event last Wednesday was cancelled. However, if you are still looking for some fun for you and your kids, be sure to stop in to pick up a goodie bag that will include a book, a snack, and other fun. In addition, the Kalamazoo Public Library has book readings online that you can view on KPL TV here that features some well-known names from the area.
New Program: The Everything Book Club
Announcing a new program for adults, The Everything Book Club! What exactly is the Everything Book Club? Well, it's everything! We discuss anything that we are reading, from books, to magazines, to audiobooks. We read everything! The first meeting will be Thursday, October 21 at 5:30pm. Come join us and talk about what you've been reading lately.
Book Club for Adults
Our next meeting of Book Club for Adults will be on Thursday, October 7th at 9:00am. The theme we will be discussing is Michigan Authors. So bring your favorite book by a Michigander and we'll share some of our favorite works!