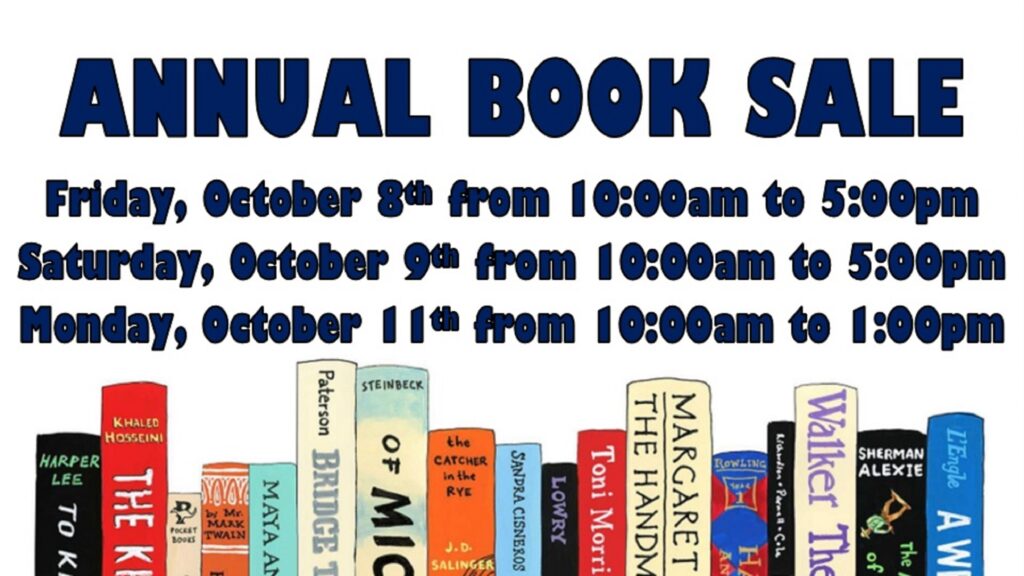 Happy October one and all! It's the beginning of spooky season. Have you visited the apple orchard yet? Are you already excited about your Halloween costume? How many things have you eaten this week that were pumpkin spice flavored? We are getting into the swing of autumn here at the library, so be sure to stop in soon and see what we have cooked up, especially if you are checking out the Book Sale this weekend.
ANNUAL BOOK SALE
the return of our Annual Book Sale is this weekend! Stop in on Friday, October 8th from 10:00am to 5:00pm, Saturday, October 9th from 10:00am to 5:00pm, or Monday, October 11th from 10:00am to 1:00pm. Make a note that the sale is closed on Sunday, October 10th. Only cash or check will be accepted. Sorry, but we cannot accept debit/credit cards. Items for sale include adult fiction and non-fiction, audiobook CDs, music CDs, and DVDs. Come see what we have and support the Vicksburg District Library!
GEEK FEST
Geek Fest is once again virtual this year. Mrs. W has lots of fun waiting for you in the Teen Section, including free comic books, a code breaking prize bag, and themed reading boxes with lots of goodies. You can also check out the online fun by visiting our Geek Fest page on the website!
BOOK CLUB FOR ADULTS & YARN ARTS CIRCLE
Tomorrow, October 7th at 9:00am, Book Club for Adults will be meeting to discuss the theme of Michigan authors. Then next week, Thursday, October 14th at 9:00am, the morning session of the Yarn Arts Circle will be meeting, so be sure to bring your fiber arts project to join in the fun.
While not required, the wearing of face masks is highly encouraged. Chairs will be spread out for social distancing and we kindly ask you not to move them. Due to the pandemic, refreshments will not be served, but you are more than welcome to bring your own coffee or tea from home if you wish.