Happy (almost) November! It seems hard to believe, but we are about to enter the holiday season for 2021. As of this morning, there are only 68 days left until 2022 rolls in. That being said, we have some big goals for the Vicksburg District Library that we hope you'll help us meet over the next two months…
FOOD DRIVE FOR KALAMAZOO LOAVES & FISHES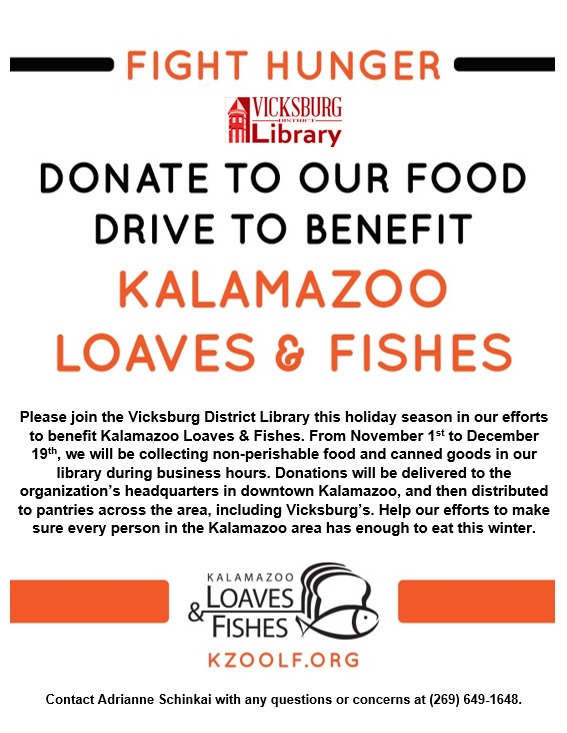 The Vicksburg District Library is excited to announce that it will be heading a canned food drive to benefit Kalamazoo Loaves & Fishes. The drive will begin on Monday, November 1st at 10:00am and will go until 5:00pm on Sunday, December 19th.
Kalamazoo Loaves & Fishes has been feeding people in the Kalamazoo area for nearly 40 years. While the main warehouse is in Kalamazoo, there are multiple pantry locations, including in Vicksburg. This means any food we collect this season can be distributed directly back to the library's community! In addition, the mission of Kalamazoo Loaves & Fishes is to eradicate hunger in the area without prejudice against anyone based on race, color, national origin, sex, disability, or age.
While we appreciate any and all donations, the Library's goal is to collect 600 pounds worth of food, which is enough to fill two delivery barrels at the organization's headquarters, and enough to keep a number of families fed through the holidays and into 2022.
Please note that the Library will only be taking non-perishable food and we are strictly NOT taking on any monetary donations. If you have any questions about what can be donated, please contact Adrianne Schinkai at aschinkai@vicksburglibrary.org or give us a call at the Circulation Desk. Any food can be dropped off at the Circulation Desk and we thank you in advance for helping us reach our goal of keeping Kalamazoo (and Vicksburg) fed this holiday season!
VDL NEWSLETTER
The November-December 2021 issue of the VDL Newsletter is out! Be sure to pick up yours today and find out what is happening around the library for the next couple of months. Can't make it in? Download your copy here!
HOLIDAY PAINTING BREAK PROGRAM
Walk away from the rush of the holiday hub-bub for a bit and come paint with us! We'll be holding a Holiday Painting Break program for adults on Saturday, December 4th from 11:00am to 1:00pm! We'll provide you with everything you need to produce a masterpiece. Cookies, treats, tea, and coffee will be served. Space is limited, so reserve your seat today by contacting us at the Circulation Desk. We hope to see you there!