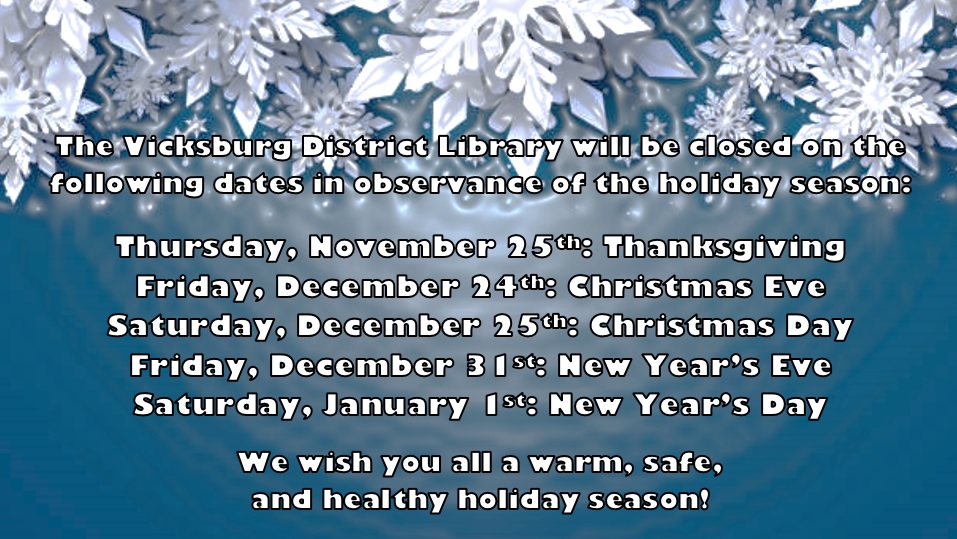 Happy week of Thanksgiving everyone! Who is ready for turkey, stuffing, mashed potatoes, and pumpkin pie? I know I am. And don't forget the gravy! As the holiday season is now upon us, please make note of the dates listed above when the Vicksburg District Library will be closed. We wish you all a warm, healthy, and safe happy holidays!
FOOD DRIVE UPDATE
In case you haven't seen our video post on Facebook or Instagram, Adrianne the Librarian announced a big update on our food drive benefitting Kalamazoo Loaves & Fishes. We are about halfway to our 600 pound goal! On Sunday, Adrianne emptied the display cabinet, counted, and weighed everything that the library has collected thus far and we have collected a grand total of 298 pounds of food!
Everything is scheduled to be picked up by KLF tomorrow morning and taken to their headquarters in downtown Kalamazoo. Many people will not be going hungry this Thanksgiving because of your generous donations. From all of us at the Vicksburg District Library, thank you for giving so freely.
The food drive will continue until Sunday, December 19th at 5:00pm when we will do a final count of everything we've collected. So please continue to bring in all of your non-perishable and canned goods until that time so we can fill the display cabinet up again for Christmas! Looking for more information? Check our menu tab Food Drive for Kalamazoo Loaves & Fishes on our website, or you can call us at (269) 649-1648. Ask for Adrianne!
FAMILY STORY TIME
Due to the rise in COVID-19 cases in the state of Michigan, we have decided to move to Virtual Family Story Time until further notice.
Virtual Family Story Time will take place on our Facebook page every Monday at 11:00am. As always, Mrs. W will read stories, sing songs, and more! Families are also encouraged to stop into the library to pick up a Story Time activity bag so you can continue all the fun at home?
Have any questions? Feel free to contact Mrs. W and the Youth Services desk.
MASKING
We have received a few phone calls and inquiries about face masking while in the library and we want to share an update…
On November 19th, the Michigan Department of Health & Human Services (MDHHS) announced a press release stating its recommendation that regardless of vaccination status against COVID-19, all persons entering a place a business should be wearing an appropriate face mask. The full release can be accessed HERE.
At this time, while the Vicksburg District Library is not requiring its patrons to mask up, we are highly recommending it for anyone who is entering the building. If you have any questions about the above, please contact our Library Director, Eric Hansen.