SPECIAL FIREKEEPER'S DAUGHTER BOOK CLUBS
Our regular Adult Book Club on October 5th will be supplemented by a special 5:30pm book club on October 9th. Anyone who can't make it in the morning is invited to join us in the evening as we celebrate this award-winning YA novel. Stop by the library to pick up your free paper copy of the book or read a free ebook or e-audiobook copy starting September 20th.
BOOK CLUB FOR ADULTS
The Vicksburg District Library's Book Club for Adults meets on the first Thursday of the month from 9:30 – 10:30am. Coffee, tea, and treats are provided. Book club will be reading Firekeeper's Daughter by Angeline Boulley for our October 5th meeting. Stop by the library for a free copy of the book!
MOVIE CLUB FOR ADULTS AND SENIORS
Come to the library to watch a movie, drink tea or coffee, and nibble on snacks. October's movie will be Rebecca (1940). Dates: Monday, October 30, November 27, December 18 @ 1-3pm.
CRAFTS FOR ADULTS & SENIORS
Do crafts at the library. October's craft is painting miniature flowerpots. All you need to bring is yourself. Dates: Tuesday, October 10, November 14, December 12 @ 1-3pm.
EVENING WRITERS' MOTIVATIONAL GROUP
A writers' group, where members report progress, set goals, share resources and advice, and troubleshoot or brainstorm current and future projects. Dates: Wednesdays, October 11, November 8, December 13 @ 6:30-7:30pm.
ADULT COLORING
Come to the library for an hour of relaxing coloring time, hot drinks, and conversation. All materials are provided. Dates: Fridays, November 10, December 8 @ 10:30-11:30am.
BIRDWATCHERS / NATURE-WATCHERS
For anyone who loves to look at birds or nature, whether out in the wild or in your own back yard. Share photos, plans, and tips; learn from your fellow enthusiasts; and tell us about your adventures in pursuit of nature. Dates: Thursdays, October 26, November 30, December 28 @ 1-2pm
TRIVIA FOR ADULTS & SENIORS
An afternoon of trivia with questions from the '50s, '60s, and '70s. Ideal for middle and older adults and anyone who doesn't keep up with the latest celebrities and music. Prizes will be awarded to the highest scorers. No registration required. Trivia takes place on Monday, December 4 from 1-3pm.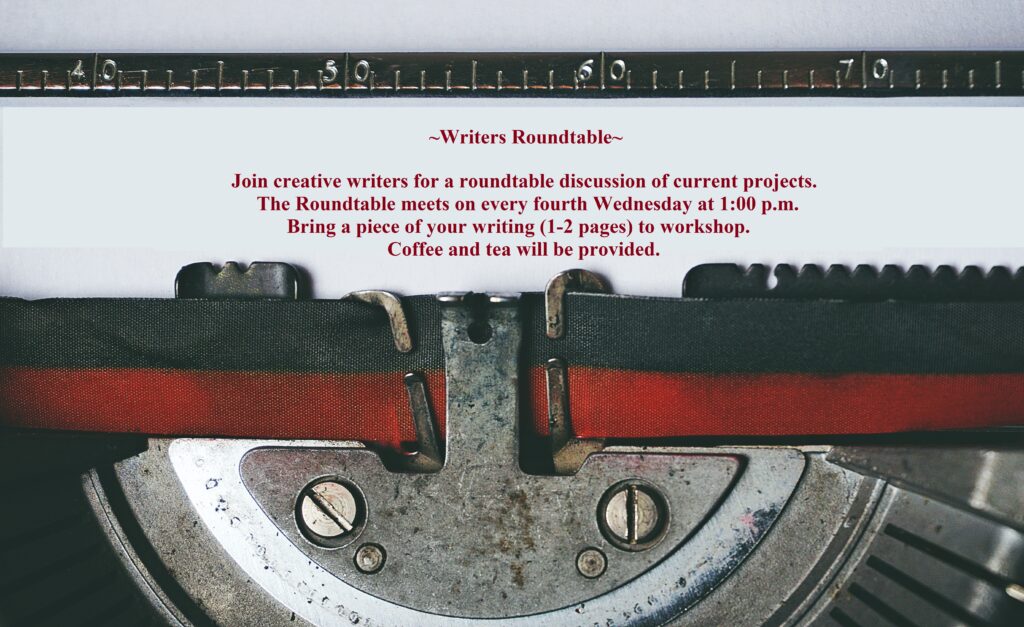 WRITERS ROUNDTABLE
Come practice the craft of writing with a friendly group of fellow authors. A great opportunity to get support, feedback, and inspiration for your literary creations.
Please note the following about Writers Roundtable:
The program will take place in the Meeting Room on the lower level of the Library. Seats will be socially distanced as appropriate.
While the use of face masks is not mandatory, they are highly recommended.
Writers Roundtable is subject to cancellation based on COVID-19 restrictions.