November 21, 2023 through January 2, 2024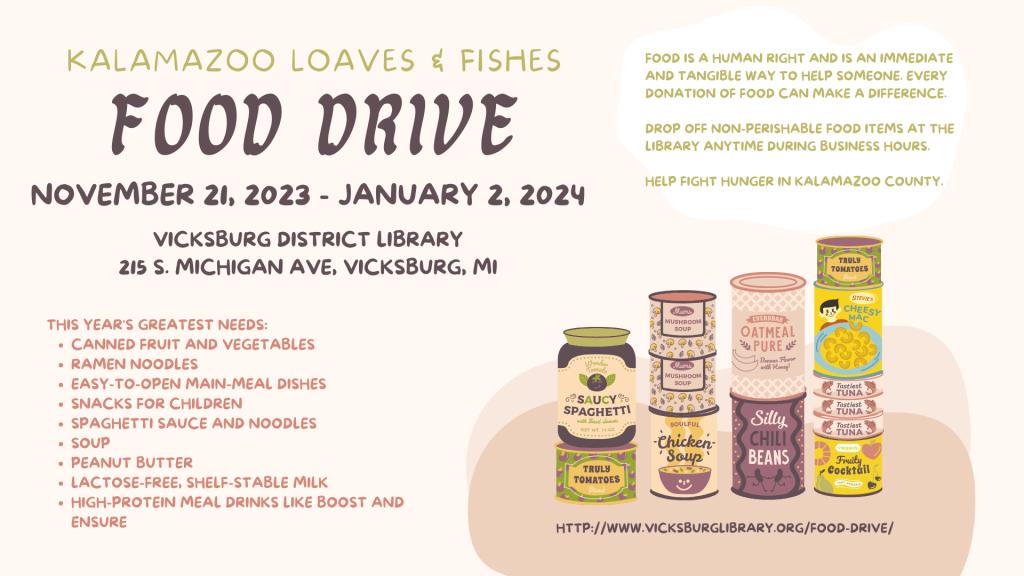 The Vicksburg District Library's Goal
To raise 300 pounds of food, which is enough to fill one donation barrel down at KLF!
About Kalamazoo Loaves & Fishes
Kalamazoo Loaves & Fishes got its start in several downtown Kalamazoo congregations in the early 1980's. A group of individuals recognized that their neighbors were struggling to put food on the table so they took up the charge to fill the food gap. What they didn't know at the time is that their initiative to lend a hand would have a profound impact on their community. Today, those efforts have grown into an organization that, while no longer religiously affiliated, welcomes people of all faiths. With help from people of all beliefs and backgrounds, they provide an average of 700 people with groceries each day. Kalamazoo Loaves & Fishes is a 'Food Bank Plus.' This means that they acquire food through donations and their pennies-on-the-pound purchasing power, and distribute food at 77 distribution sites throughout Kalamazoo County via their five food programs.
KLF's Mission
Kalamazoo Loaves & Fishes will feed hungry people and engage the community in the fight to end hunger.
KLF's Values
Respect. Diversity & Inclusion. Stewardship & Accountability. Integrity. Collaboration. Urgency. Service.
A Little About Kalamazoo Loaves & Fishes*
KLF provided food assistance to an average of 700 individuals per service day.
KLF distributed more than 3 million pounds of food to hungry residents of Kalamazoo County.
KLF served 146,578 four-day food orders through its grocery pantry program.
For 38 years, KLF has been the primary food assistance provider in Kalamazoo County.
KLF offers food assistance at dozens of sites throughout Kalamazoo County through their five food programs. Seven of the thirty grocery pantry program locations are currently open to ensure those struggling with hunger can receive groceries each month during the pandemic.
KLF pantries are located in Augusta, Comstock, Galesburg, Kalamazoo, Parchment, Portage, Richland, and Vicksburg.
Food donations provide a direct connection between donors and people who are hungry in our community.
*During the 2018-19 fiscal year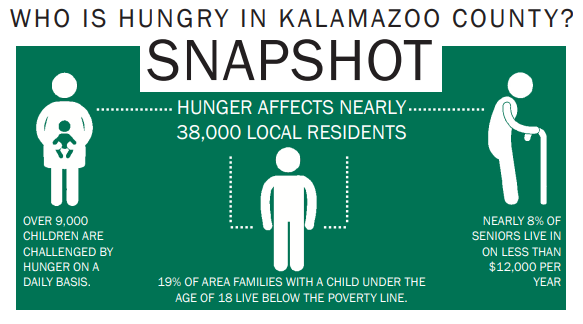 The Wish List
Here is a list of items we are able to take here at the Vicksburg District Library and what Kalamazoo Loaves & Fishes is always in need of:
PROTEINS: canned meats, hearty soups, and nuts
FRUITS: canned, preferably without sugar or corn syrup added
VEGETABLES: canned, preferably without added salt
GRAINS: pasta, rice, oatmeal, granola bars
OTHER: jelly/jam, butter, peanut butter, cooking oil, protein based drinks such as Ensure
This year's greatest food needs are:
canned fruit and vegetables
ramen noodles
easy-to-open, main-meal dishes
snacks for children
spaghetti sauce and noodles
soup
peanut butter
lactose-free, shelf-stable milk
high-protein meal drinks like Boost and Ensure
*While we cannot accept any fresh or frozen items at the Vicksburg District Library, these items are always welcome for direct drop of at the Kalamazoo Loaves & Fishes location at 901 Portage Street, Kalamazoo.
The following items will not be accepted by Kalamazoo Loaves & Fishes due to the safety of its service recipients:
rusty, badly-dented or unlabeled cans
glass containers
meat from your deep freezer
homemade items
non-commercial canned or packaged items
alcoholic beverages or mixers
open or used items
Not sure if an item can be accepted for our Food Drive? Have any questions or concerns? Feel free to call us at (269) 649-1648 and ask for Laura MacLellan. Thank you for assisting our efforts to make sure no one in Kalamazoo goes hungry!