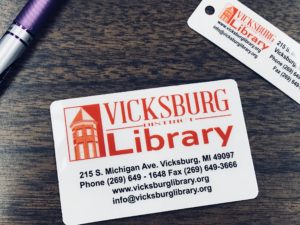 Cards for Resident, Reciprocal, and Non-Resident Patrons
Vicksburg District Library cards are issued at no charge to eligible residents, property owners and businesses located within VDL's district of Brady Township, the Village of Vicksburg, and Schoolcraft Township outside Schoolcraft Village. These people have voted to support VDL with part of their taxes. Educators from Vicksburg Community Schools are also eligible for free cards.
Cardholders from libraries in communities that also support their library with at least one millage in taxes and exchange loan privileges with VDL may apply for a reciprocal card at no charge by bringing in their home library card and a driver's license. These libraries include:
Kalamazoo Public Library
Mendon Library
Portage District Library
Schoolcraft Library
People and businesses outside of the VDL district may pay an annual fee to receive a non-district card to have full borrowing privileges, but are not eligible for reciprocal cards.
Obtaining a Library Card
Getting a card is easy. Come in to the Library with your ID showing proof of identity and  proof of residence, such as a Driver's License with your current living and mailing addresses. If you live in, rent, or own property in the Village of Vicksburg, Brady Township, the unincorporated area of Schoolcraft Township or in Park Township, your card is free.
Cards are given to children who are age 4 and up, with a parent or legal guardian with them to sign for the card.
You are also eligible for a free card if you live in Mendon, Schoolcraft, Portage, or Kalamazoo, which have arranged for reciprocal access with Vicksburg District Library. Bring your ID and your library card from your home library.
If you live in Wakeshma or Pavilion Township, there is an annual fee per household. The fee schedule is as follows:
Pavilion Township residents: $50 per family per year.
Wakeshma Township residents: $30 per family per year.
Senior citizens who were patrons before January of 2013 pay the same $10/year fee that they always have.
New senior citizen patrons will pay half of their township's regular family fee, which is $25/year for Pavilion residents, and $15/year for Wakeshma residents.
Vicksburg Student Cards
We now offer a special Library card for Vicksburg Community School students.  This is a limited library card that allows for students (especially those out of district) to get a no fee card.  This card allows a student to check out the following items only: Juvenile (Fiction, Non-Fiction, Audio Books), YA or Young Adult (Fiction, Non-Fiction), and Adult (Fiction, Non-Fiction).  To sign up for this card a parent or legal guardian must come with them and bring their driver's license.
Library Card Renewal
In-district cards expire every two years on the date they were issued. Out-of-district cards expire each year on the date they were issued. When this happens we will need you to come to the library with your current ID to verify your current address, phone number and email address and renew your card. You will not be able to use your card until it is renewed.