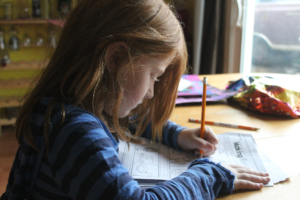 The following page lists websites and resources that are great for helping your elementary student in a number of subjects. Included are sites to assist with basic math, to beginners history and social studies class, to learning to type for the first time on a desktop, to Michigan history. If you find that one of our links no longer works and needs to be replaced or if there is a particular topic you would like covered on this page, please CONTACT US. We will be happy to assist you.
Disclaimer: The Vicksburg District Library does not endorse the views or opinions expressed by the following websites. No monetary exchange has occurred between the library or any of these agencies. These sites have been listed for academic purposes only.
Michigan facts and information for elementary students.
"Interactive math resources for teachers, parents, and students featuring free math worksheets, math games, math flashcards, and more."
A database designed to find accelerated reading books for beginners.
Check out these activities from Good Housekeeping that'll help your kids interested in arts, crafts, and maybe a bit of science too!
"Ben's Guide the the U.S. Government, a service of the Government Publishing Office (GPO), is designed to inform students, parents, and educators about the Federal Government."
"With over 7,000 biographies and daily features that highlight newsworthy, compelling, and surprising points-of-view, we are the digital source for true stories about people that matter."
"Biz Kids is a national financial education initiative based on an Emmy award-winning public television series about kids, money, and business."
"A comprehensive site with activities, resources, and links designed to get teenagers excited about STEM – science, technology, engineering, and math."
"Provides information on the history, people, government, economy, energy, geography, communications, transportation, military, and transnational issues for 267 world entities."
"If you know how to read you can learn how to code. Our online coding tutorials with easy-to-follow instructions, immediate feedback, and a tested curriculum take anyone from non-technical to 'I can code.'"
"For 12 and under users, Coolmath4Kids is an amusement park of games, lessons, and more designed to teach math and make it fun."
From the BBC, learn to type with this fun dance party game!
A great learning resource for young ages, this website acts as a photo encyclopedia, linking kids to information from animals to transportation.
Learn one or more of 30+ languages for free at Duolingo through immersion with speaking, listening, and writing from lesson one!
"The Exploratorium is a public learning laboratory exploring the world through science, art, and human perception. Our mission is to create inquiry-based experiences that transform learning worldwide."
Lions and tigers and bears and so much more! Explore.org shares live cams of all different types of animals from all around the globe. Animals are out in the wild, in shelters/rescues, or possibly in a medical setting. And there is never a shortage of playful puppies and kitties to watch. Choose your stream, smile, and relax.
"Created for kids in grades Pre-K through 8, Funbrain.com has been the leader in free educational games for kids since 1997. Funbrain offers hundreds of games, books, comics, and videos that develop skills in math, reading, problem-solving and literacy. Educators and parents can trust our site to provide a fun and safe experience both at home and at school. Funbrain does not collect personally identifiable information from kids."
"EDC, in collaboration with partners the Young Women's Leadership Charter School and Spy Hop Production, has created a youth-produced, web-based media series and companion educator materials on science and engineering careers targeting girls in under-served groups."
Having trouble understanding Common Core math? What about complicated historical events? Don't worry. Go Peer has you covered. This online tutoring service matches up your child with a vetted tutor from institutions such as Harvard and MIT and helps them get past the learning backslide while school is out.
"An award-winning source of unbiased, reliable, easy-to-understand answers and explanations of how the world actually works."
"We're a diverse group of parents, educators, librarians, kid lit creators, and award-winning filmmakers working together to create fun new ways to reinforce an appreciation of reading that children will carry with them for the rest of their lives."
From the Department of Natural Resources, news and information about outdoor recreation in the State of Michigan.
Throughout high school, college, and their professional careers, people are expected to cite their resources of information. This citation maker from OSLIS will help elementary students create their first citations in the MLA format for projects and papers, and give them a basis for understanding why citing your sources is so important.
Featuring games, articles, and videos, this website from National Geographic is perfect for getting children interested in animals, cultures, and the earth around us.
"Meet Noah. He's staying with his grandmother in a neighborhood where almost no one else speaks English, except for Nell, his new best friend. Together, they are meeting new friends and trying to learn Spanish."
Browse articles of various viewpoints across a wide array of topics to understand the full scope of trending world issues.
"Exciting multi-platform, indoor-outdoor, science exploration adventure for kids and grownups."
"Find rhymes, synonyms, adjectives, and more!"
From Larry's World, a list of rules and guidelines for children (and their parents) for using the internet and being online, and doing it safely!
Simple articles in social studies that elementary students can read and use.
"Starfall.com® opened in September 2002 as a free public service to teach children to read. Since then it has expanded to include language arts and mathematics for preschool, kindergarten, first grade, second grade, and third grade. Starfall's emphasis on phonemic awareness, systematic sequential phonics, and common sight words in conjunction with audiovisual interactivity has proven effective in teaching emergent readers. Starfall activities are research-based and align with Individual and Common Core State Standards in English language arts and mathematics. The program emphasizes exploration, play, and positive reinforcement—encouraging children to become confident and intrinsically motivated. Starfall is an educational alternative to other entertainment choices for children and is especially effective for special education, homeschooling, and English language development (ELD, ELL, ESL). It is widely used in schools that serve children with special needs and learning difficulties."
"Here we are constantly looking for ways to foster curiosity and a love of learning in our children, regardless of ability or history. With a focus on STEM and STEAM (Science, Technology, Engineering, Arts and Math), and positive children's mental health practices, our goal is to foster resilient, healthy minds."
"Are your students drowning in information, misinformation and downright bunk? Are information literacy skills tested in your state? Teaching information literacy skills has never been more important. But it's easier said than done. As teacher-librarians, how do we teach those critical, all-important information literacy skills in ways that capture and hold student interest?"