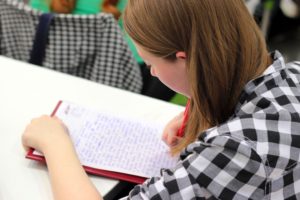 The following page lists websites and resources that are great for helping your middle school and high school students in a number of subjects. Included are sites to assist with essay writing and research, current events, and STEM. Prep materials for college entrance is also listed. If you find that one of our links no longer works and needs to be replaced or if there is a particular topic you would like covered on this page, please CONTACT US. We will be happy to assist you.
Disclaimer: The Vicksburg District Library does not endorse the views or opinions expressed by the following websites. No monetary exchange has occurred by the library or any of these agencies. These sites have been listed for academic purposes only.
From ThoughtCo, this guide goes over the basics in many of music's genres, their theories, and how they have progressed throughout the ages.
"With over 7,000 biographies and daily features that highlight newsworthy, compelling, and surprising points-of-view, we are the digital source for true stories about people that matter."
"A comprehensive site with activities, resources, and links designed to get teenagers excited about STEM – science, technology, engineering, and math."
"Provides information on the history, people, government, economy, energy, geography, communications, transportation, military, and transnational issues for 267 world entities."
"If you know how to read you can learn how to code. Our online coding tutorials with easy-to-follow instructions, immediate feedback, and a tested curriculum take anyone from non-technical to 'I can code.'"
"The College Prep Guide is a comprehensive online resource guide and directory for your college preparation."
From BBC Bitesize, this guide walks you through the subject of dramatic theater from script to stage.
A study guide designed to connect high school students with English Lit resources, from poetry, to essays, to historical backgrounds. Created by Finding Dulcinea: Librarian of the Internet.
Content for young women who seek careers in technology.
"Being able to access the reliability of the information on which you base your decisions is of great importance both to your own individual life as well as your contribution to the society in which you life."
"An award-winning source of unbiased, reliable, easy-to-understand answers and explanations of how the world actually works."
From WikiHow, an online article explaining the key beginning points in learning to read sheet music.
"Today's digital landscape offers young people unprecedented access to tools and resources for learning…foundational information and digital literacy skills…can help set kids up for success as lifelong learners."
"The definition of a credible source can change depending on the discipline, but in general…a credible source is one that is unbiased and is backed up with evidence."
"A personalized learning resource for all ages. Khan Academy offers practice exercises, instructional videos, and a personalized learning dashboard that empower learners to study at their own pace in and outside of the classroom."
From The Quad magazine, an article by David A. Tomar discussing the summarized key points of 18 of the world's largest religions.
From the Department of Natural Resources, news and information about outdoor recreation in the State of Michigan.
"NPR is a mission-driven, multimedia news organization and radio program producer…in a time of media fragmentation and sound bites, NPR has succeeded by focusing on its core: in-depth, quality news. NPR has evolved from a secondary to an essential news source, with dozens of bureaus around the world and the nation."
NSTeens.org was created through a partnership between Sprint® and the Internet safety experts at NetSmartz® Workshop, a program of the National Center for Missing & Exploited Children®. Through animated videos, short films, games, and interactive comics, NSTeens teaches tweens and teens about making safer choices online.
Articles with pros and cons on many issues. (Excellent for essays and opinion papers).
"ProProfs offers free SAT study resources including practice exams, study guides, flashcards, quizzes, cram sheets, articles, links, and tips to help you succeed in the SAT exam."
Research guidance and citation help in a number of different academic writing styles.
Presented by the University of Illinois at Chicago, this infographic displays many of the issues revolving around plagiarism in the classroom today.
"Find rhymes, synonyms, adjectives, and more!"
"The College Board is a mission-driven not-for-profit organization that connects students to college success and opportunity." SAT practice tests and other materials.
"Complete guide to Psychology for students, educators, and enthusiasts. Find psychology articles, study notes, and learn about the theories and perspectives that have shaped the discipline."
"When misinformation obscures the truth and readers don't know what to trust, Snopes.com's fact checking and original, investigative reporting lights the way to evidence-based and contextualized analysis. We always document our sources so readers are empowered to do independent research and make up their own minds."
From Varsity Tutors, free practice exams of some of the most popular standardized tests in the United States, including the SAT, ACT, and GED.
"The Student Art Guide is an art education website dedicated to helping high school art students excel. We provide art project ideas, motivation, and tops to help students reach their potential."
"Are your students drowning in information, misinformation, and downright bunk?…Teaching information literacy skills has never been more important."
From Nemours, a non-profit children's health system, articles and resources on teen health, ranging from body and sexuality, to food and fitness, to diseases and infections.
Articles and videos on news and current events from around the world.