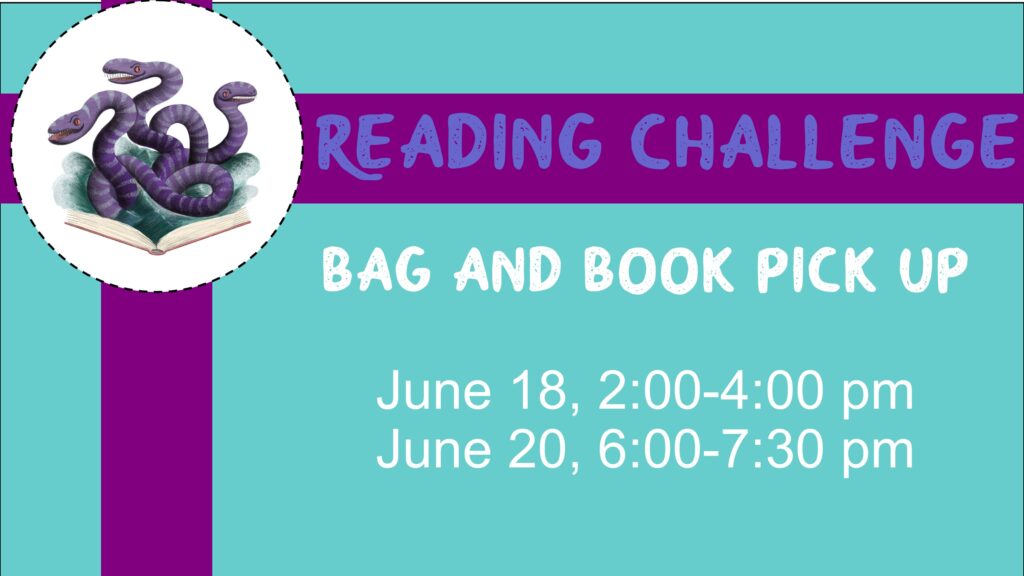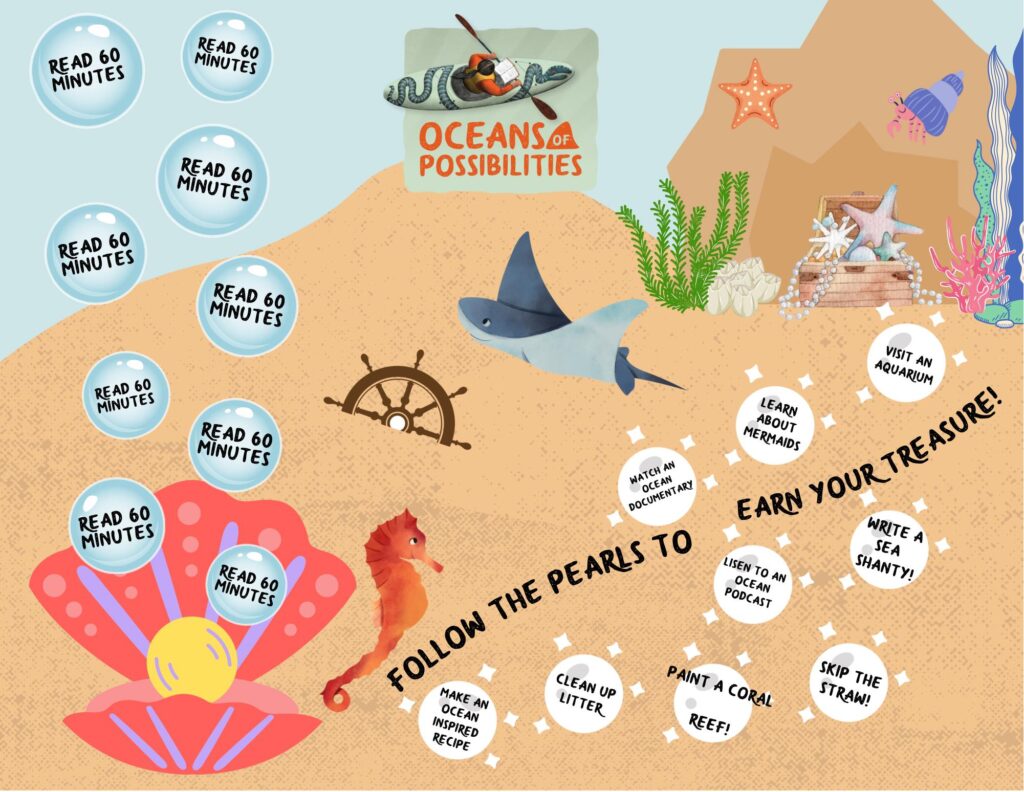 Stop by the library on Saturday, June 18, 2-4 pm or June 20, 6-7:30 pm to pick up a reading challenge and a brand new book to keep! Bags will be available while supplies last to pick up at the library beginning June 21 (free book pick up will only be available on June 18 and 20). Participants are not required to attend the events on June 18 or June 20 in order to participate in the Reading Challenge. You can download the reading challenge form and raffle tickets to fill out here at our website or pick them up at the library.
There are a variety of reading challenges to complete plus attending a programs at the library to earn entries in to our raffle drawing. Do as many as you like! All raffle tickets must be turned in by July 30, 2022 in order to be considered for the drawing. A special summer reading prize basket will be awarded!
Book Club is for students who have complete 6th – 12th grade. Adult parent/caregiver do not attend our book clubs. Bring your lunch and a book to the library! Each week we will have a different theme to encourage you to read a variety of books. Don't worry if you haven't finished your book! A treat will be provided too. Mrs. W will have displays at the library for suggested reads as well as have book available for check out at each book club.
June 21 … Bring a favorite book you are reading now or just finished.
June 28 … Our summer reading theme is "Oceans of Possibilities." Read a book set on the ocean, by the ocean, etc.
July 5 … Graphic Novels … choose a graphic novel to read; any theme will do!
July 12 … Read a book that has been turned in to a movie. We will discuss which was better and why.
July 19 … We will be reading this year's Newberry Medal winner, "The Last Cuentista" by Donna Barba Higuera
July 26 … Pick a book from the Percy Jackson series or one from Rick Riordan Presents.
Our first Tween & Teen event we are showing "Shang-Chi!" Pizza will be served and there will be tables set up to practice origami.
Come hang out at the library. This summer we will have a SWITCH gaming system! Enjoy crafts and snacks too!